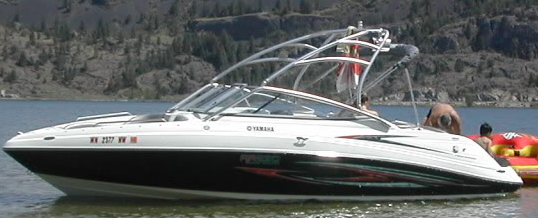 Boat Shipping Specialists
As usual, Elite Auto Shipping is proud to introduce to you Yamaha Jet Boat Shipping. So far it appears that the highlights are the 2012 Yamaha 242 Limited S, the 2012 Yamaha AR210, and the 2012 Yamaha SX190 available for the first time this year. Here's just a simple breakdown of what's in store for you today.
Every year Yamaha's top of the line Jet Boat, the 242 Limited S, sells out faster than the manufacturer can produce them. This year, we can easily predict the same. Elite Auto Shipping, in just the first month of the year, has already offered a fine portion of boat shipping to customers nationwide. With all the features of boat shipping, you won't need a summer beach house because you can practically live on the water instead. For the comfort of you and your family, the 2012 Yamaha 242 Limited S has seating for 11 passengers, an integrated swim platform, storage compartments big enough to fit a porta-potty, satellite ready AM/FM radio, 8 premium marine speakers, a fresh water shower, and a stylish arch finished in black to accentuate this boat even more than last year.
As for the engines housed in the 2012 Yamaha 242 Limited S, you'll find Twin 180hp 4-Stroke H.O. engines bringing you over 50mph at top speed. It's the largest boat that Yamaha produces, and is available in two sharp colors this year, Black or Champagne so you can't be missed when out on the water. This is a boat you can spot from a mile away, and you'll need to because this speed demon will be under your nose within 2 minutes when coming your way.
If you're the medium size type and don't really want a 24ft boat, there's a smaller yet equally as fun and luxurious. The 2012 Yamaha AR210 is a lovely option, available in black with an aluminum wakeboard tower. At three feet shorter than the 242 Limited S, the 2012 Yamaha AR210 seats 9 passengers with maximum comfort and of course has a swim platform, radio, speakers and many other features to enhance your experience on the water.
And if you're looking for the most basic of Yamaha boats this year, we can far exceed your expectations with the 2012 Yamaha SX190 — debuting for the first time this year, this 19ft boat is ideal for boaters piloting alone or with the light company of upto 7 additional passengers. Yamaha's SX models do not have an arch or wakeboard tower, however the AR models which mirror the SX models of similar class, do come with the arch. So if you love the 2012 Yamaha SX190 you may also want to check out the 2012 Yamaha AR190 for a slight upgrade.
The options for Yamaha boat shipping are endless, and there's something for everyone with every boat. Each Yamaha Jet Boats come standard with Bimini top, courtesy deck lighting, cup holders, and much, much more. Elite Auto Shipping can offer boat shipping for the right boat, and sharing all these features and benefits with you is our pleasure. When coming in to purchase your dream boat, trust us on boat shipping services.
Call us for all your boat shipping needs.

At Elite Auto Shipping, our reputation speaks for itself. Contact one of our boat shipping sales representatives today to see how we can help you and allow us to answer any questions you may have about boat shipping or use our online boat shipping calculator to get an instant boat shipping quote!